To those of you who already haven't, please remember to update your bookmarks and links. The new home of All My Hues is here:
Remember everyone -- I've moved to Blogger, and my new web address is
Current Mood:

calm
I'm moving to New York because of grad school; my blog is moving to
Blogger
because LiveJournal seems to be getting worse and worse.
This is my new blog URL:
http://all-my-hues.blogspot.com/
So, please update your links and change my Web address :) Thank you!
See you at the new blog,
Tejal
PS -- I spent the last few days moving over most of my entries (like reviews and art) from this LJ to the new blog. Access past entries through the tabs, or just scroll back.
....my blog is, too!
Last year I started but never got around to finishing reviewing the new colors Diamine released for for Fall 2009. So, guess what will be happening over the next two weeks?
Here, once again, is the color comparison chart I made for the Fall 2009 Diamine inks, next to several other similar colors. You can see that I color-corrected the ink swatches.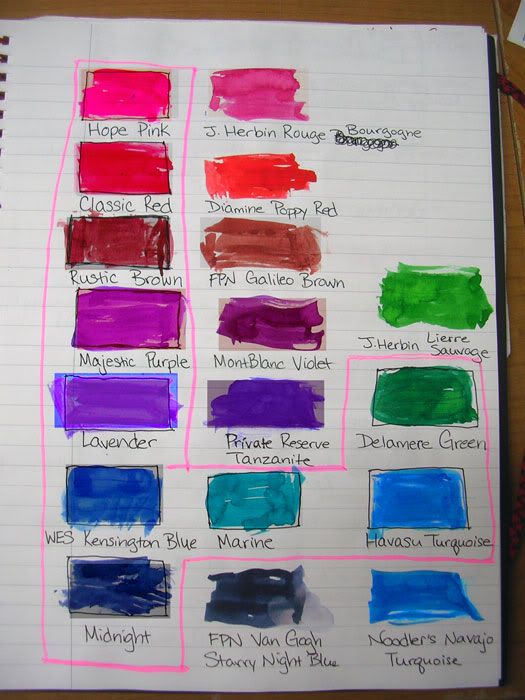 The Diamine Fall '09 ink swatches (Hope Pink, Classic Red, Rustic Brown, Majestic Purple, Lavender, WES Kensington Blue, Midnight, Marine, Havasu Turquoise, and Delamere Green) are outlined in black, plus there's a pink highlighter that separates them from the other inks.
I am in the process of moving my blog to
Blogger
. Livejournal just has too many issues, and most of my fellow pen/paper/mail bloggers use Blogger. So, I will be making the switch, and over the next week or so transferring all my (relevant) content material over to the new site. So, you'll be able to access past LJ entries on the new blog.
...take two!
Current Mood:

hungry
Quo Vadis Journal 21 Daily Desk Planner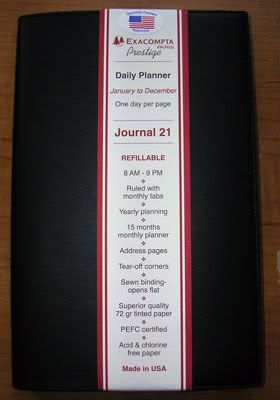 INTRO
This is my favorite one of the three Exaclair agenda planners I have received for review. Period. As the name implies, it's not travel-sized, so it's not really meant to fit in a purse or pocket. This is meant for a bookbag, briefcase, or just sitting home at your desk. The purpose of this agenda planner is to help you map out your day in detail...and it includes PLENTY of tools for you to stay organized not only throughout the current year, but for the entire next year as well. This planner was made in the U.S.A.
DESIGN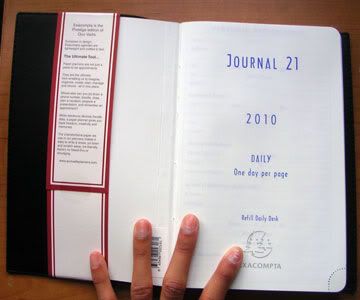 This stylish and REFILLABLE planner has a black pleather cover which you can keep even as you ditch the used planner itself for a fresh one.
There are some cool tools, such as a list of major holidays around the world and this handy chart of international telephone access codes (for all you globe trotters out there who shun BlackBerrys for paper planners).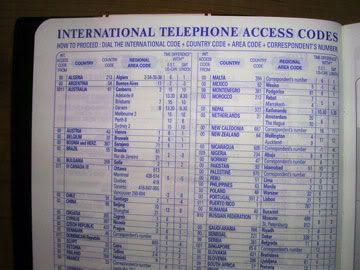 .
Exactly like the
Quo Vadis IB Traveler
and the
Rhodia Weekly Notebook Agenda Planner
, the Journal 21 has an "anno-planning" section -- for the current year as well as the next year! In addition to this, it also has a full calendar layout for the current and forthcoming year: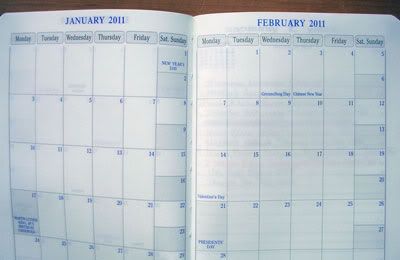 Here is the actual layout of the planner:
As you can see, each page is devoted to one day (with the day, date and month prominently displayed at the top).
The day is divided into half-hour segments, running from 8 AM to 9 PM.
I personally really like this aspect of it. The top of each page near the binding has the month; the week you are currently in is in bolded print. The top of each page on the outer side, on the far side from the binding, tells you how far you are into the year in terms of week and day (eg, for Tuesday May 11: 19th week, 131-234).
The different months are "tabbed" by blue swatches that you can see from the side, when the book is closed. This makes it easy to find different months: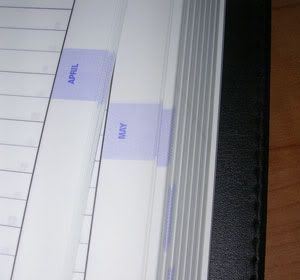 Another feature the Journal 21 shares with its cousins the Quo Vadis IB Traveler and Rhodia Weekly Agenda is the contact info section in the back -- 14 pages for you to fit all your contacts.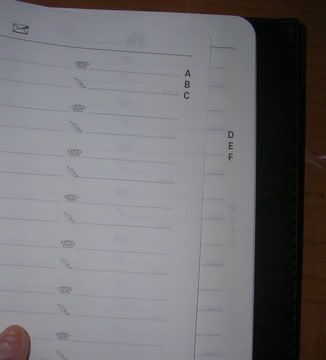 It's no contortionist, but it's flexible enough yet sturdy enough to withstand being tossed in and out of a bookbag or briefcase, and can stand being squished due to its pliability. At the same time, it's thick enough that I can put it on my lap and write. To me, it's just the right combination of flexible and sturdy.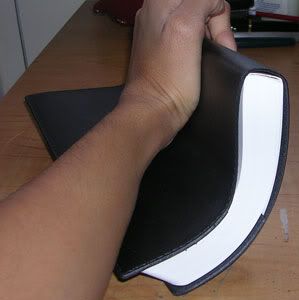 Another design feature which I really like is the tear-off tab on the bottom of each page, so you can find your place easily as you progress through the year. I love this simple but efficient feature (it's the little things).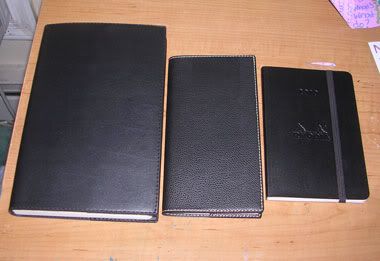 Comparison shot. Left to right: Journal 21, IB Traveler, and Rhodia Weekly
PAPER
All the paper in this wonderful planner is FP-friendly. See for yourself: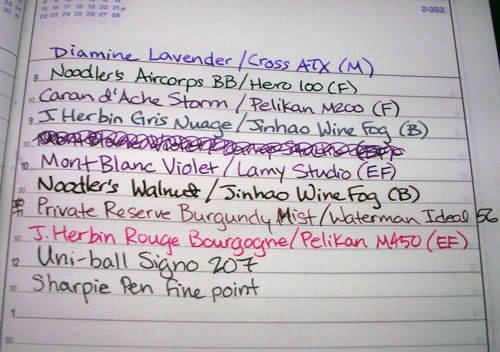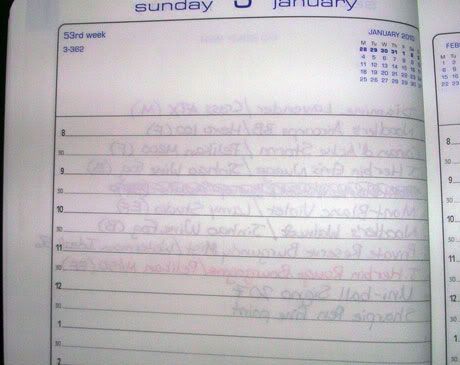 No feathering, some shading, but zero bleedthrough.
The paper itself is smooth, just slightly off-white so that it's easy on the eyes, and really nice to write on.
PURCHASING THE JOURNAL 21
An Exaclair product, this planner can be found wherever Exaclair agenda items are sold. Some websites include
The Daily Planner
, or even the
Quo Vadis Web site
. You could also go to
Writer's Bloc
.
I have no affiliation with any of these stores, of course. I'm just listing them as viable options from which to purchase the Journal 21.
CONCLUSION
My conclusion: I freaking love this thing. No, seriously. This is my favorite of the planners I've reviewed, and it has been my loyal companion throughout the school year, helping me to stay organized. For me, this is a perfect planner: highly FP-friendly, divides the day into very small segments for exact planning, and a lot of room with which to do said planning. Those are the three things I look for, and the Journal 21 nailed them all. Plus, it looks really great and is very durable.
Come next year, I will definitely be purchasing a refill! If you're anything like me and the above points look attractive to you, go ahead and make the plunge; buy this planner. You won't regret it.
Current Mood:

sleepy
*PHOTO HEAVY (duh)*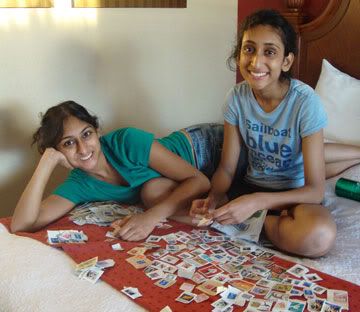 My sister (right) and I (left) lounging in front of our new stamp horde.
One of the souvenirs we bought, as you can see above, was a bag full of mixed international stamps (all postmarked). It'll be fun to decorate envelopes with them!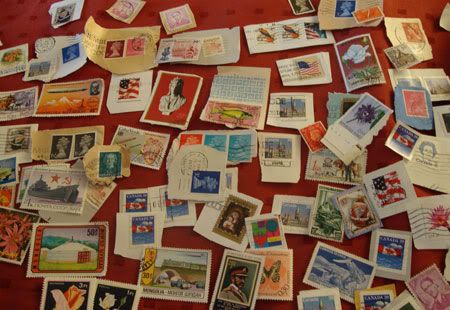 A sampling of the goodies.
Some Israeli stamps Preeya got for her friend: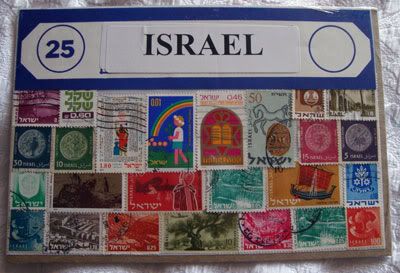 A poster calling for young men to work for the Pony Express. Mail delivery was hardcore.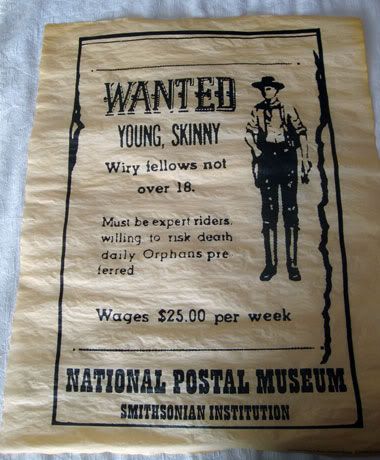 "Must be expert riders willing to risk death daily Orphans preferred"
. I rather like how upfront and blunt this ad is. No fine print, you know?
We also got a little booklet...thing....of postcards for free!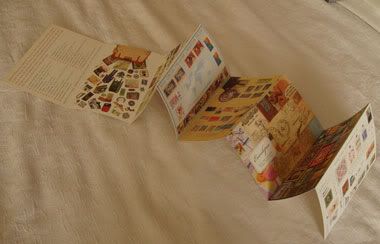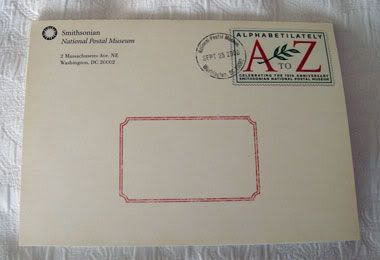 Open it up, and there are 7 postcards inside: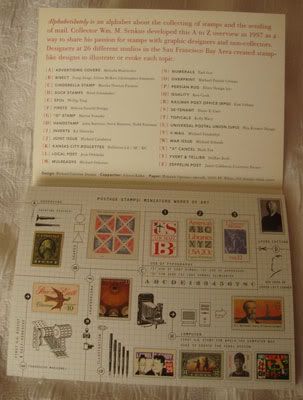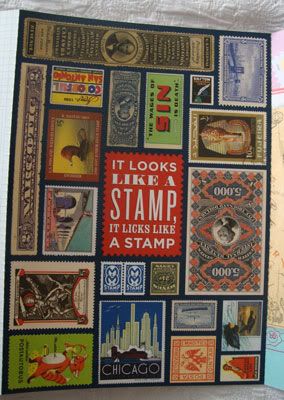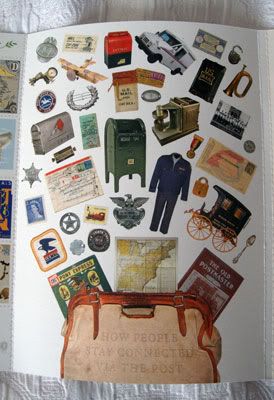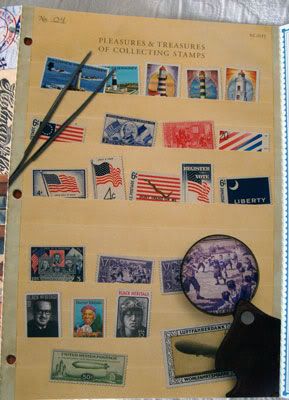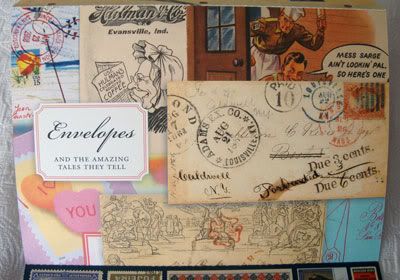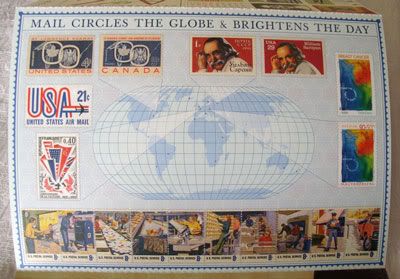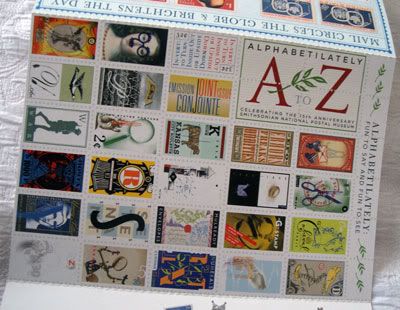 And the backs: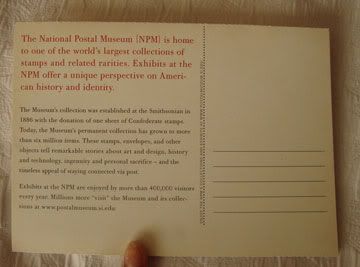 These are absolutely gorgeous. I'm not going to send them out; they will instead be decorating the wall of my new apartment in Syracuse, NY :)
The obligatory souvenir post!
Current Mood:

cheerful
Rusty Miller!


The winner of the Rhodia Agenda giveaway is... Dizzypen!



Winners, e-mail your mailing address to allmyhues@gmail.com.



Thanks to everyone who entered!!!
The winner of the Quo Vadis IB Traveler giveaway is....
Current Mood:

calm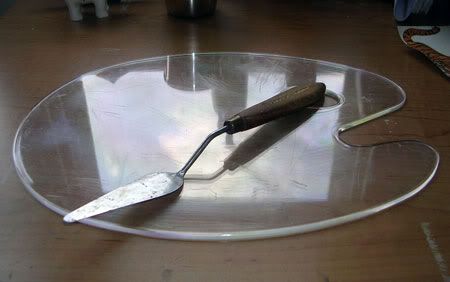 My own palette and "scraper".
If you use tube paints -- be they watercolors, acrylic, or oils -- investing in a palette is a great idea. Palettes are used for mixing colors upon, and they are MUCH better than those mixing trays with several tiny compartments. I had one of those, and believe me, it was a nightmare to clean. Apparently they keep colors moist longer, but personally I would much rather re-moisten paint rather than deal with cleaning out several small wells after the fact...but that's just me :) But that being said, palettes
are
a great deal easier to clean, as they are just a flat surface. This also makes them easy to store. The palette I currently have is made of plastic -- a very durable, reusable material. I'm not a fan of disposable palettes, as they create unnecessary waste. Buy reuseable! :)
In addition to a palette, you'll also want to have on hand a scraper. These are nifty for, well, scraping off dried smears and globs of colors from your palette after you're done working. It makes it much easier to clean than just using, say, a napkin or sponge. Palette scrapers are cheap, so you should definitely invest in one. Too frugal to do so? No problem. You can easily use something you already have -- my "palette scraper" is actually an oil painting spatula. You can even use a plastic knife for this job. Scrapers make cleaning your palette much easier and faster. And really, who wants to spend a lot of time cleaning up?
Current Mood:

artistic
WARNING: PHOTO HEAVY POST AHEAD!
Hello hello! Since I know that many of you are fellow mail lovers, I figured that I would dedicate this post to describing for you the
National Postal Museum
in Washington, D.C. that my sister and I went to see.
To be perfectly honest, I didn't expect anything that interesting. My sister was the one who really insisted that we see it, and I am
so
glad for it! The National Postal Museum was absolutely fascinating, and I certainly encourage anyone who is in the vicinity to go and visit.
The museum is located right by Union Station -- literally across the street -- and admission is free.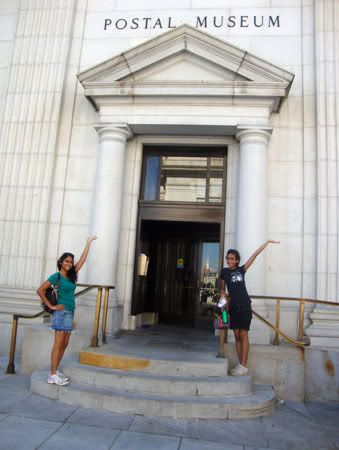 My sister (right) and I (left) in front of the Museum.
The National Postal Museum used to be the actual post office for Washington, D.C. Here's my sister posing by some old mail boxes.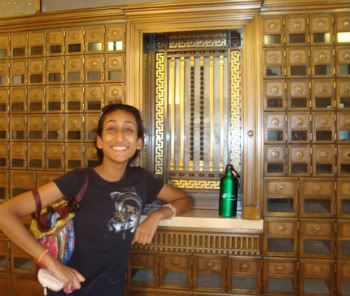 Going down the escalator, this is what we saw: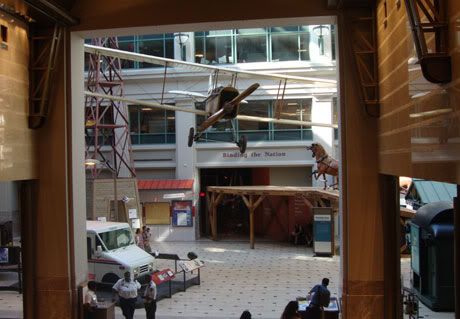 On the left is a modern mail delivery truck; in the middle is a mail-delivering aeroplane; and to the right you can see the blunt end of a mail delivery train. You could walk inside the train, where there was a setup of how the inside of a mail-sorting train looked, back when railroads were first beginning to connect the nation.
Look familiar?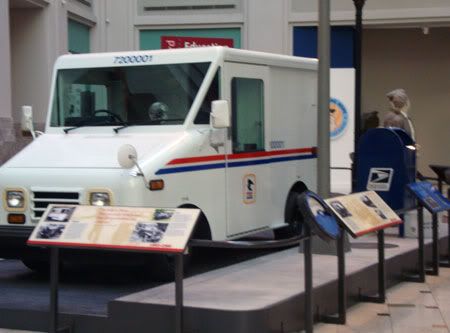 A mail-delivery stagecoach: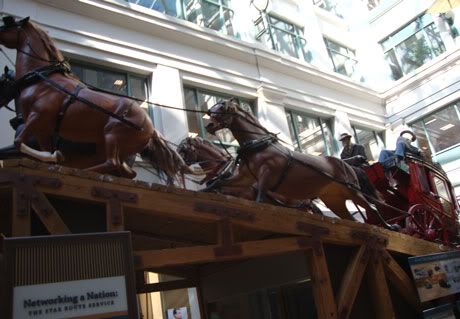 The Alphabetilately Exhibit (Sept 26, 2008 -- Oct 29, 2010)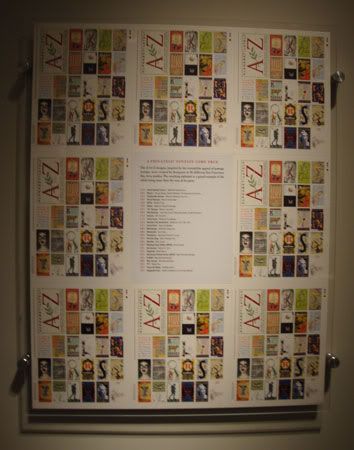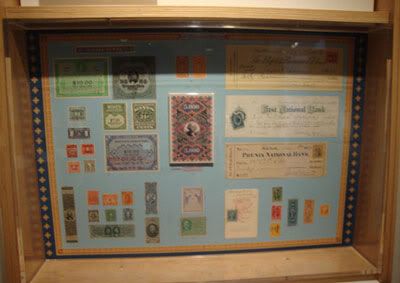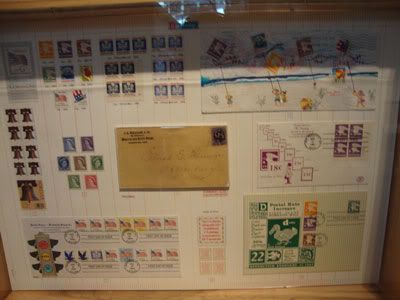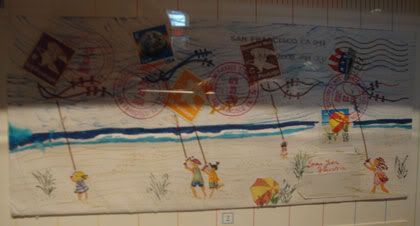 Creative!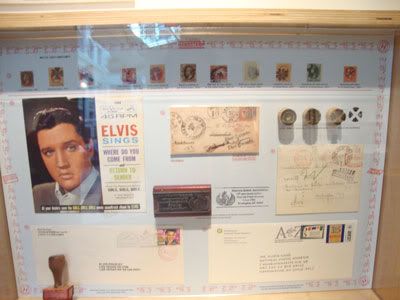 The Gift Shop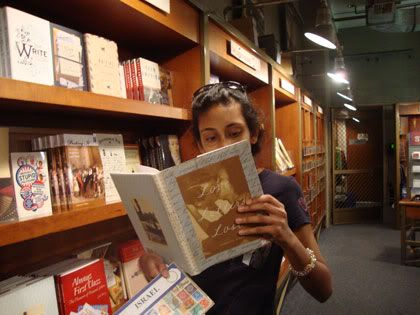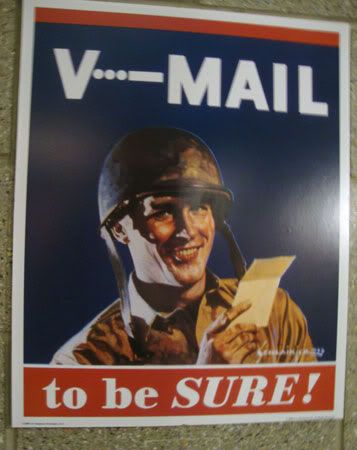 I wanted the above poster. So. Badly. Alas, it was $25 and out of my price range ;__;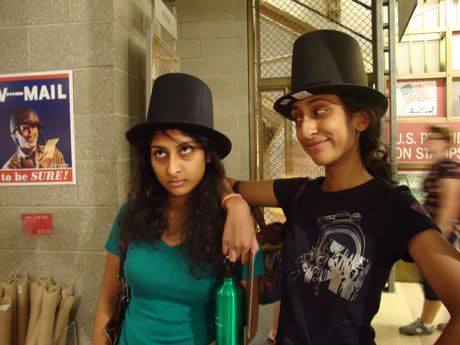 Gotta love the placement of the V-mail poster, yes? That's me on the left, my sister on the right. Yup, this shot was orchestrated.
At the National Postal Museum gift shop, I also found the book
Good Mail Day
, from the lovely ladies at the
Good Mail Day blog
. If you haven't checked out their book or blog yet, I strongly encourage you to do so!
In addition to all this, there was an exhibition called Binding the Nation, that basically showed the evolution of the postal system in the U.S.: From old Native American trails in the woods to the Pony Express to the system we have now. There was also a section on coded messages and telegraphs sent during various wars, such as the Civil War, the World Wars, and the Cold War. They also had a V-mail section. I sadly didn't get a chance to see/photograph these, as the museum was closing early *sad*
Needless to say, the National Postal Museum is an amazingly interesting place to visit, and I encourage everyone to drop by (and, if you're feeling generous, drop a donation).
Stay tuned for the inevitable SOUVENIRS POST!
Current Mood:

accomplished
Smithsonian Folklife Festival
, and hopefully visiting some museums. I'll be back Sunday, and posting will resume then.
I hope everyone has a spectacular 4th of July!!!
I am currently in a Holiday Inn with my parents and sister as we celebrate Fourth of July Weekend in our nation's capital. We'll be attending the